Familie P
Vilstrup
1. generation
2. generation
3. generation
4. generation
5. generation
6. generation

5. generation
P1.3.1.2 Marie Katrine Kronborg
Født 13.8.1854 i Kelstrup, datter af Christian Jepsen Kronborg (P1.3.1) og Maren Hansen Lund.
Konfirmeret 1869 i Vilstrup
Gift 4.5.1882 i Vilstrup med fisker Hans Heinrich Sohrt, født 20.7.1858 i Sønder Vilstrup, søn af Heinrich Sohrt og Lene Cathrine Nissen.
Børn:
P1.3.1.2.1 Heinrich Christian Sohrt, født 18.5.1883 i Kelstrup, konfirmeret 3.4.1894 i Vilstrup
P1.3.1.2.2 Maren Elene Sohrt, født 29.3.1885 i Kelstrup, konfirmeret 26.3.1899 i Vilstrup
P1.3.1.2.3 Christian Jepsen Sohrt, født 18.2.1888 i Kelstrup
P1.3.1.2.4 Jens Hans Sohrt, født 5.4.1889 i Kelstrup, død 29.5.1889 i Kelstrup
P1.3.1.2.5 Sofie Wilhelmine Sohrt, født 31.8.1890 i Kelstrup
P1.3.1.2.6 Helene Cathrine Sohrt, født 17.10.1891 i Kelstrup, død 13.9.1894 i Kelstrup
P1.3.1.2.7 Jens Hansen Sohrt, født 4.3.1893 i Kelstrup
P1.3.1.2.8 Anne Marie Sohrt, født 24.8.1894 i Kelstrup
P1.3.1.2.9 Helene Kathrine Sohrt, født 13.10.1896 i Kelstrup
Marie Katrine Kronborg er fadder ved Sophia Werners (P1.3.1.5.4) dåb i Vilstrup 1901.
Datteren Maren Elene er sammen med sin kommende mand Nis Madsen Byriel faddere ved Falle Jensen Werners (P1.3.1.5.6) dåb i Vilstrup 1907.
Hans Heinrich Sohrt døde 18.7.1912 i Kelstrup, ved sin død var han høker.
Marie Katrine Kronborg døde 23.5.1924 i Kelstrup.
Tak til Tom Smidt som har givet oplysninger om 7 af børnene. Tom Smidts web site beskriver desuden efterkommere af børnene og aner til Hans Heinrich Sohrt.
P1.3.2.2 Christian Jepsen Kronberg
Født 18.1.1862, døbt2.3.1862 i Løgumkloster, søn af Andreas Jepsen Kronberg (P1.3.2) og Marie Ellene Andersen.
Emigrerede 7.7.1883 til Hooper, Nebraska, USA. Da var han smed. I USA kaldte han sig Chris Kronberg.
Gift 15.6.1888 i Sidney, Nebraska med Betty Ann Smith, født 31.8.1868 i Lewistown, Fulton, Illinois, USA, datter af Aaron Smith og Almira Austin.
Børn:
P1.3.2.2.01 Harry A. Kronberg, født 1889, død 1889.
P1.3.2.2.02 Mary Rose Kronberg, født 9.4.1890, Scotts Bluff, Nebraska
P1.3.2.2.03 Bertha Luella Kronberg, født 30.4.1892 i Gering, Scotts Bluff, Nebraska
P1.3.2.2.04 Charles Franklin Kronberg, født 27.10.1893, Gering, Scotts Bluff, Nebraska
P1.3.2.2.05 William Henry Kronberg, født 21.11.1895, Gering, Scotts Bluff, Nebraska
P1.3.2.2.06 Jesse Thomas Kronberg, født 18.12.1897, Deadwood, South Dakota
P1.3.2.2.07 Roy Edward Kronberg, født 8.4.1900 i Scottsbluff, Scotts Bluff, Nebraska
P1.3.2.2.08 Christian Kronberg, født 31.12.1903 Scotts Bluff, Nebraska
P1.3.2.2.09 Grace Estelle Kronberg, født 11.10.1905 Scotts Bluff, Nebraska
P1.3.2.2.10 Ruth Alice Kronberg, født 15.7.1908 i ScottsBluff, Scotts Bluff, Nebraska
P1.3.2.2.11 Gladys Betty Kronberg, født 11.10.1912 i ScottsBluff, Scotts Bluff, Nebraska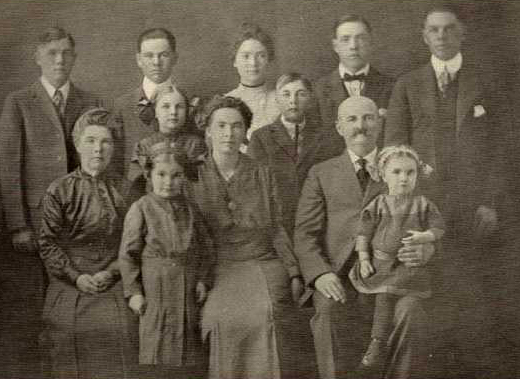 Chris og Betty Kronberg med børn ca. 1915
Kilde: Stephen Kronberg
1900-1930 boede de Winter Creek, Scotts Bluff, Nebraska.
Følgende er et udddrag fra:
History of Western Nebraska and its People
GRANT L. SHUMWAY, SCOTTSBLUFF, NEBRASKA EDITOR-IN-CHIEF
THE WESTERN PUBLISHING & ENGRAVING COMPANY LINCOLN, NEBRASKA 1921
Teksten må have været gennem et ocr program og indeholder derfor fejl. Jeg har rettet nogle af de oplagte.
"CHRIS KRONBERG. — Over a quarter of a century of connection with the agricultural interests of Scottsbluff county has made Kris Kronberg one of the substantial and wellknown men of this vicinity. A native of Germany of Danish descent, when he came to the United States in 1882, he brought with him many of the admirable traits of the people of both those countries, and the success that has come to him has been won by legitimate participation in the enterprises of this section. Mr. Kronberg says that next to the pride he takes in the fact that his sons did their full duty to the United States during the war with Germany, is that in his good farm and his record when he served his community and the county as assessor and deputy sheriff. He is progressive in his ideas and methods, takes an active part in all questions for the upbuilding of this section, as well as state and national affairs.
Chris Kronberg was born in North Schlesweg. Germany, January 18, 1862, the son of A. Kronberg. a native of Denmark, and Lena (Andersen) Kronberg, who was born in Germany. The father was an innkeeper in the old country where he and his wife passed their lives. They had three children : Georgia, who died in Germany; Martin, located in Sidney, Nebraska; and Chris. The brother is now dead. As a youth the boy received an excellent education in the public schools of Germany, which are supervised by the government. Init lie saw little future for a man without money in the old country and determined that he would go to America and in the new country secure a foothold from which to climb the ladder of fortune, and he set sail for the United States, arriving in 1882. He had little knowledge of language, conditions or methods, however, he was quick to familiarize himself with both the tongue and customs of his adopted country. Soon after landing on our shores he came west as the idea of every man from European countries is to possess land, but as he had little money he began punching cows for a cattle outfit near Ogallala, Nebraska. Afterward he removed to Sidney and still with his original determination in mind, to Scottsbluff county in 1888, where he preenipted one hundred and sixty acres of land, proved up on it, made some improvements, and then was able to dispose of it to advantage. He then came to his present place, section 5, township 22-55, where he bought a hundred and sixty acre tract, homesteaded twenty-seven additional acres and on this land developed a fine farm, and there established a home.
In 1888 Mr. Kronberg married Miss Betty Smith, a native of Illinois, and to this happy couple were born ten children : Mary, the wife of Roy Konkle, lives on a Scottsbluff farm; Bertha, the wife of Sam Perkins, lives on a farm north of Mitchell; Charles has recently returned home after thirteen months service in France, during which time he took part in some of the most important battles of the war and won promotion to the rank of sergeant, having been a member of the One Hundred and Sixteenth Machine Gun Battalion ; William is still in France at this writing, being a member of the One Hundred and Ninth Engineers ; Jesse was in the army, but was discharged for disability; Sophie, Roy, Grace, Ruth, and Gladys are still members of the family circle. Mr. Kronberg is an active member of the Modern Woodmen, and in politics votes independently, believing the best man should be elected to office in local affairs regardless of party lines. Mr. Kronberg served one term as assessor and two years as deputy sheriff. He helped organize the company that built the Enterprise ditch and has assisted in the management of same for more than thirty years. His service for the county was highly satisfactory and a host of friends are proud of the record he made while in office. Mr. Kronberg believes that a public official owes a real duty to the people who elect him and he did his best to demonstrate in a practical way the ideas he advocates to the satisfaction of his adherents and his own con-"
Betty Ann Smith døde 10.1.1936, begravet på Fairview Cemetery, Scottsbluff, Scotts Bluff, Nebraska.
Christian Jepsen Kronberg døde 19.2.1946 hos datteren Grace Estelle i Alliance, begravet på Fairview Cemetery, Scottsbluff, Scotts Bluff, Nebraska.